"In travel, there are as many as 100 pre-booking online touchpoints. No wonder it is so hard to win customers' attention. When researching travel online, the average customer shifts more than 50 times across channels—desktops, tablets, and mobile devices—chalking up roughly 100 pre-booking touchpoints.2That adds up to way too many chances of losing potential customers if different information is given in different channels, customers are forced to reenter the same data time and again, and the sales agent has no record of the information given online. In addition, the majority of touchpoints are not "owned" by the travel company. Our research showed airlines owned fewer than 20 percent of all preflight digital touchpoints. That means companies have to be smart in knowing which of the various search engines, review sites, blogs, and so on are relevant to their potential customers in order to focus advertising budgets effectively."
This Google research graphic supports and highlights challenges facing travellers in their purchase path: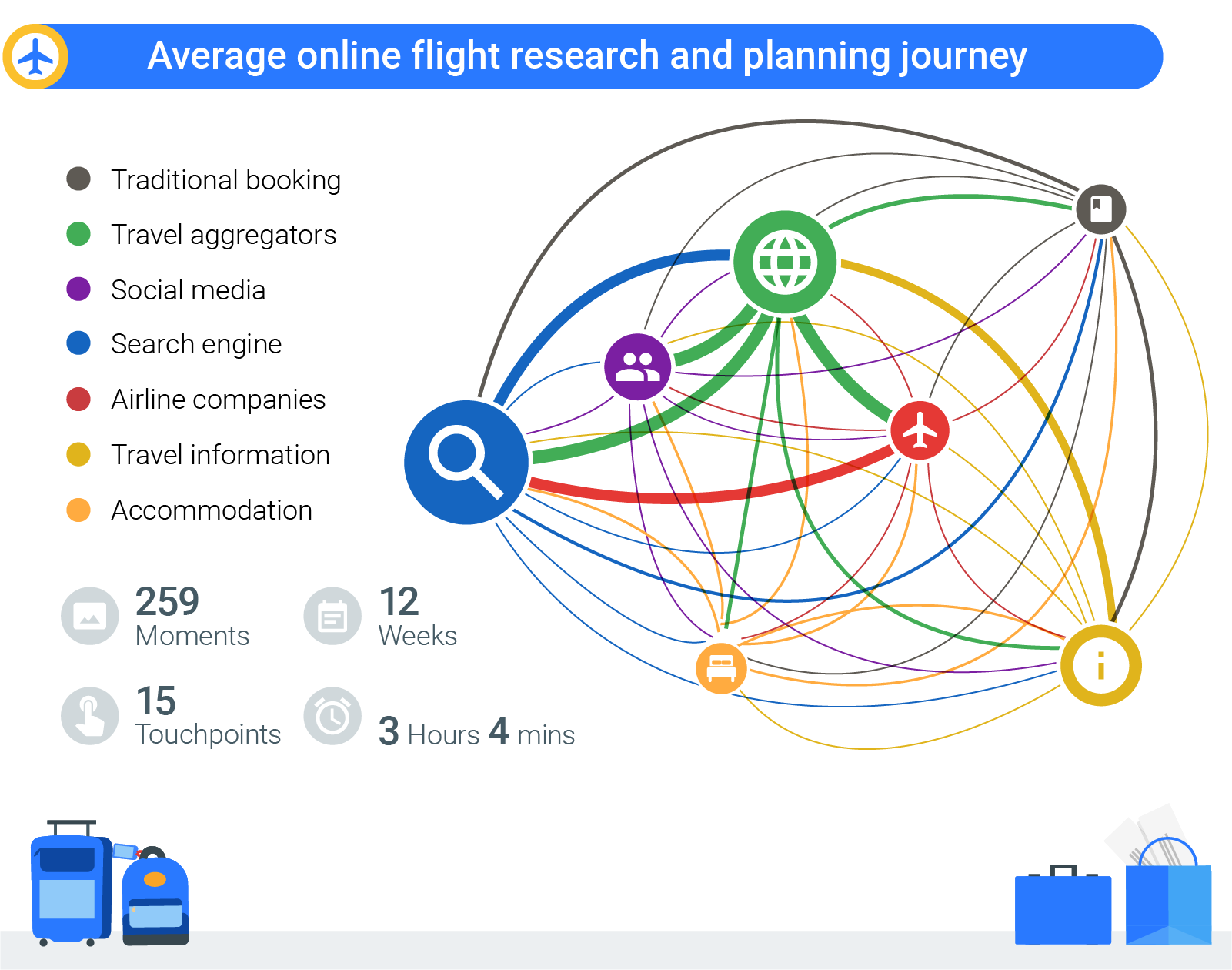 Stephen comments: I love this McKinsey article and this extract in particular because we all can easily relate to the challenges researching and booking travel online. It feels like an almost impossible task for airlines to focus on adding value (vs. being price driven) to the travellers needs when you are navigating through so many channels and intermediaries as also highlighted in Google's graphic. The opportunity is to take a step back and through a clean set of eyes explore upending the current complex distribution model.
Read more:
https://www.mckinsey.com/industries/travel-transport-and-logistics/our-insights/travel-and-logistics-data-drives-the-race-for-customers
https://www.thinkwithgoogle.com/intl/en-aunz/consumer-insights/innovative-australian-research-unveils-path-purchase-international-flights/